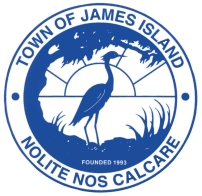 The Town of James Island provides many opportunities for satisfying careers serving the residents of James Island. 
Facilities Maintenance Tech II position in the Public Works Department. This position is full-time with health benefits and state retirement. Please refer to the attached Job Description for more information. Position is open until filled. Please send resumes to Niki Grimball @ ngrimball@jamesislandsc.us.  Job Description 
Part-time Program Support Specialist to assist in promoting the work and programs of the James Island Arts & Cultural Center. This position requires a creative individual who is able to work independently and under the direction of the Development Coordinator on various projects and/or events.  The ideal candidate must have a positive attitude and interest in the arts and history.  Specific job duties may change from day-to-day depending on the program needs at the time. Individual must have the ability to be flexible in order to plan and prioritize essential tasks. Some regular duties may include assisting with event planning, coordination with artists, teachers, scheduling classes and/or events, ordering supplies, answering questions and/or providing information to the public, setting up and attending events, and assisting the Development Coordinator on other essential tasks to promote the vision of the Center.
The work schedule for this position includes all day Saturday and evenings during the week for a total of 24 hours/per week at a competitive pay rate. Workdays and times may change temporarily dependent upon the needs of the Center. Please send resumes to Niki Grimball @ngrimball@jamesislandsc.us. Job Description